On designated Saturdays throughout the spring and summer, more than 60 South Shore residents fanned out across their community — data-tracking smartphone apps in hand — in a collective effort to systematically survey, categorize, and map building and land conditions for every parcel of land in their neighborhood.
The community survey days, which concluded in early September, were the latest phase in the South Side Housing Data Initiative (SSHDI) — an effort to understand the housing landscape in three distinct South Side communities and make that information available to residents to inform new housing policy.
South Shore is the third — and largest — neighborhood to participate in the South Side Housing Data Initiative. In recent years, Woodlawn and Washington Park partnered with the University of Chicago's Office of Civic Engagement and students from the Harris School of Public Policy, with the generous support of the Polk Bros. Foundation, to survey their communities. Though all three neighborhoods sit within close proximity to each other, the housing issues they face differ. South Shore leaders emphasize that the project's timing couldn't be better for addressing those unique challenges in their community in particular.
"With the Obama Presidential Center about to land across the street from us, we should really be trying to make a conscious effort to get a handle on the housing issues in South Shore because, as we all know, when change happens, that's when you begin to see predatory real estate practices," Val Free, executive director of partner organization The Neighborhood Network Alliance and the lead volunteer coordinator for SSHDI's South Shore surveying, says. Unlike Woodlawn and Washington Park, South Shore has very few vacant lots or single-family homes. Most housing stock is multifamily, Free says, with aging buildings and residents. There are also a large number of renters. Data collected through the SSHDI could give the community the numbers and tools it needs to ensure its low- and moderate-income residents aren't displaced or overlooked and to encourage more people to consider home ownership.
The first iteration of the SSHDI came about in 2016 after representatives of Woodlawn East Community and Neighbors (WECAN) sought University support to collect and analyze local property data to better understand housing-related issues facing current residents and the availability of resources to address them. Once plans for the Obama Presidential Center were announced later that year, the group was also looking to use that data and analysis to develop policy recommendations for addressing housing affordability and stability challenges in the context of the planned center and related re-development. The initiative, which was also supported by the Mansueto Institute for Urban Innovation, later expanded to Washington Park, where University partners worked with the Washington Park Residents' Advocacy Council, bringing the total number of land parcels surveyed to more than 7,000.
The data gathered in Woodlawn and Washington Park is posted at historicsouthsidecommunitysurvey.com.
Findings from the Woodlawn survey have already proved valuable. Before Chicago's City Council passed the high-profile Woodlawn Housing Preservation Ordinance last fall, WECAN presented policy recommendations based on data gathered by SSHDI to local public officials considering policies to help preserve affordable housing ahead of the Obama Center's development.
"Leveraging the University's resources to support equitable community development on the South Side is central to our work and our goal in partnering on this community-led effort was to better inform residents about their current housing landscapes and empower them to advocate for community-driven housing policies," Alyssa Berman-Cutler, executive director of community development within the Office of Civic Engagement, said. "We've already seen wonderful success with our early neighborhood partners and we look forward to seeing all the other ways community members put this data to good use."
In order to engage as many South Shore residents as possible, community leaders including Free and LaShawn Brown of partner organization South Shore Works encouraged neighbors through social media, neighborhood networks, and giveaways to volunteer. Empowering community members to lead and own the work was critical, Brown says.
"There needs to be a sense of camaraderie and collaboration. When the community members are part of that, they're setting the table and sitting at the table, instead of just finding out what's being served to them. It just makes a heck of a difference," Brown, who also works in real estate in the community, says. "There's historically been a culture of people finding out what decisions have been made for them and this will be the opposite — it's community members taking the initiative to be a part of our planning for our community."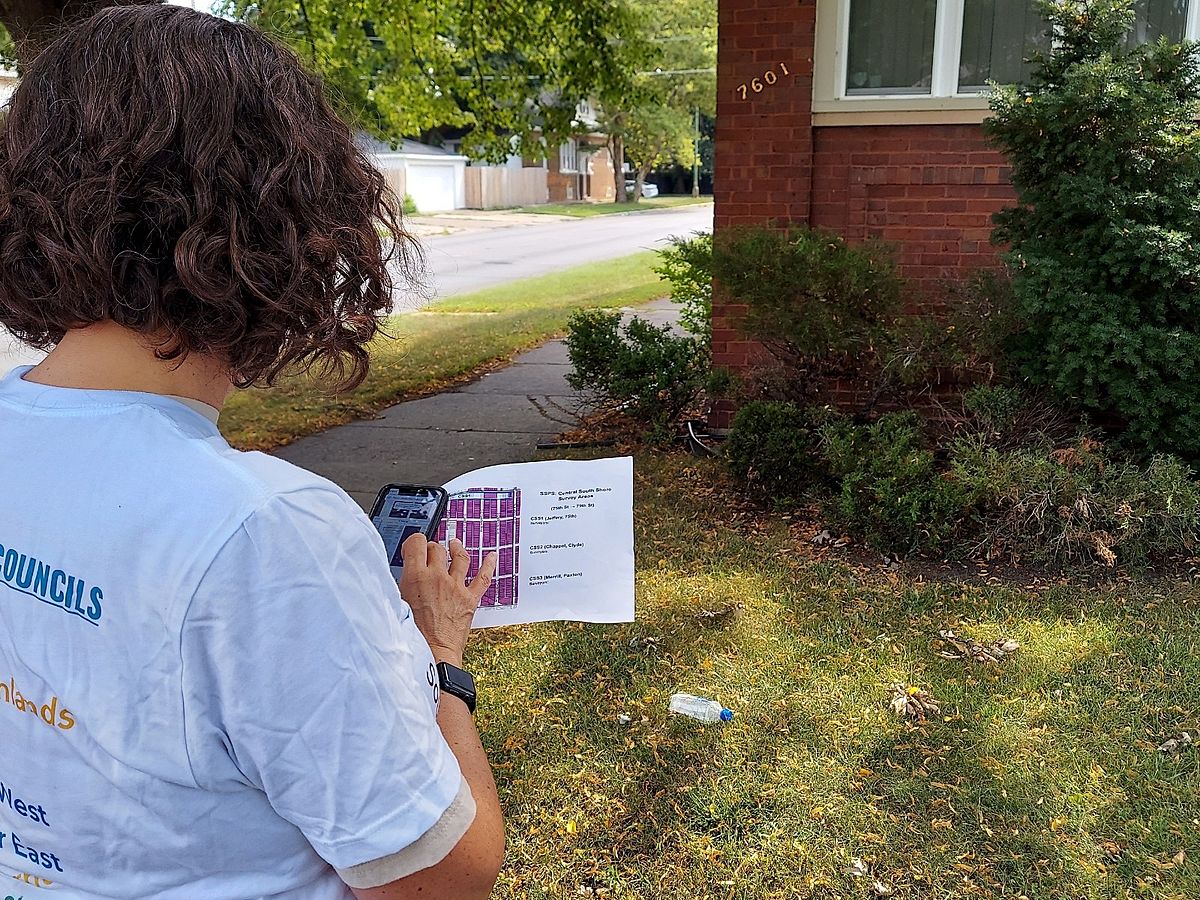 Nick Schwartz, a second year public policy student at the Harris School with an interest in housing issues, was a summer intern working on the project who chose to continue that work this fall.
"I wanted my time at Harris to be centered around forming relationships with the surrounding neighborhoods and community organizations. I believe that both the University and the South Side have a lot to share and learn from one another," Schwartz said. "I see the passion that drives these organizations to improve their neighborhood and better the outcomes of South Shore residents. Our partners have a wealth of knowledge when it comes to the community. I may know a decent amount when it comes to analyzing mortgage data, but those findings are far more meaningful when placed in context of what is actually going on."
With South Shore surveying now complete, students from the Harris School will analyze the collected data and draft key findings in the coming months. Community partners will then develop draft policy recommendations based on the data analysis to address housing affordability and stability challenges and host a series of community listening sessions to share key findings and solicit feedback in the late fall. The final report with findings and recommendations, and its corresponding public-facing website with interactive maps, is planned to be completed by June 2022.
Data coming through UChicago channels will be seen as more credible with policymakers, Brown says, and the partnership additionally helps the community and the University overcome any issues of distrust and work together toward a mutually beneficial goal of a stronger, more equitable South Side. Brown and Free and their organizations are also involved in a number of forthcoming projects and partnerships with the City of Chicago and other groups to tackle more specific housing concerns, like challenges facing local condo owners. Both say they hope this data collection process and the positive changes it drives are only the beginning.