After nearly a year of parcel-level surveys and data analysis, three South Shore community organizations—in partnership with the University of Chicago's Office of Civic Engagement (OCE) and with technical assistance from Harris School of Public Policy students—have released a report that aims to empower local residents to better understand their community's housing landscape and advocate for community-driven policies that help low- and moderate-income community members maintain their housing and otherwise address the unique housing challenges South Shore faces, while also building on the community's strengths and opportunities. The findings come at a critical time for South Shore as construction is underway for the planned Obama Presidential Center in nearby Jackson Park—a project expected to bring about new economic development in the area.
The report marks the latest phase in the South Side Housing Data Initiative (SSHDI)—an effort to understand the housing landscape in three distinct South Side communities and make that information available to residents to inform new housing policy.
Starting in the spring of 2021, more than 60 South Shore residents fanned out across their community using data-tracking smartphone apps to survey, categorize, and map building and land conditions for every parcel of South Shore land. Harris School students then analyzed the collected data and identified key insights. Participating South Shore organizations Neighborhood Network Alliance, Chamber of Commerce, and South Shore Works later used those insights to inform and develop the report's policy recommendations.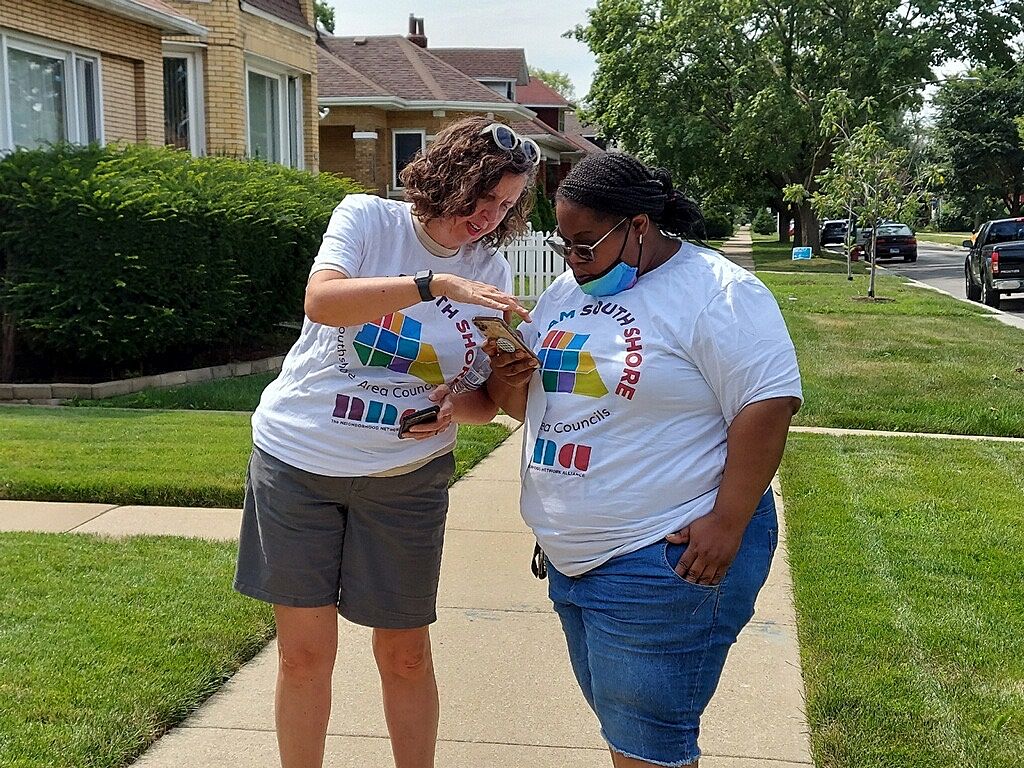 "Doing all this research and presenting it and aligning it with our objectives is the best, most credible way to create the opportunity for increased homeownership in the community," South Shore Works' LaShawn Brown told attendees during a November panel about the report. "And we want to see that in the spaces of the existing residents. We want to reach in and pull our brethren up in our communities and as renters so that they can become homeowners. And it takes a lot of community collaboration. It takes relationships and volunteers."
South Shore is the third — and largest — neighborhood to participate in the South Side Housing Data Initiative. In recent years, Woodlawn and Washington Park also partnered with OCE and Harris students, with support from the Polk Bros. Foundation, to survey their communities.
Though all three neighborhoods sit within close proximity to each other, the housing issues they face differ. In South Shore, the data showed a high rate of vacancy masked by building density; vulnerable renters, condo buildings, and owners; and opportunities to leverage public investment and grow homeownership, among other findings. At the November South Shore Housing Fair panel about the report, community leaders additionally highlighted South Shore's unique mix of housing stock and income levels, the community's high rate of renters, as well as its underappreciated assets such as beaches, golf courses, and sprawling parkland. South Shore residents hold spending power but often those resources are spent in Hyde Park, the South Loop, or elsewhere. Panelists estimated about $200 million leaves the community annually. Investment in commercial real estate, in addition to housing, could provide the community with a needed boost, they said.
"We want everyday people that live in South Shore to have a say on what happens in the community—what businesses come into the community, what businesses don't come into the community," South Shore Chamber of Commerce Executive Director Tonya Trice told event attendees. "And the only way we can have that type of voice is if we have control of our assets."
Brian Craighead, who graduated from the Harris School in June, was among the University students who helped community members collect data for the project last spring and later analyzed and cross-referenced data sets to inform the report's findings. He also presented on the report at the November housing event.
"I enjoyed being able to dig into the data, but the experience I took the most from was interacting with the community leaders," Craighead said. "Their passion for these topics is abundantly clear from the start. It also served as a reminder that this wasn't some study that will disappear into academia but one that will have material impacts on the lives of those in South Shore."
Looking ahead, policy recommendations from the report center on establishing platforms for community input and oversight; implementing strategies to promote growth and prevent displacement; and addressing longstanding residential and commercial vacancies with expanded initiatives and partnerships. In the coming months, the three South Shore organizations who collaborated on the report will work closely with OCE's economic inclusion team and Community Programs Accelerator to start implementing the report's recommendations and otherwise work together on key initiatives in the neighborhood.
"Partnering with local organizations to support equitable community development is at the heart of what we do, and this effort is a great example of community-driven progress," Alyssa Berman-Cutler, executive director of community development within OCE, said. "The South Shore community determined a critical need and we were grateful to have a set of resources that could help them start to address that need and lay the groundwork for a stronger housing landscape in the future."