On July 15, more than 130 Chicago Public Schools high school students —representing nearly 50 high schools and 12 Chicago zip codes, predominantly on the South Side— gathered on UChicago's campus to gain new insights on their future professional options and opportunities at the 11th annual Peter and Judy Kovler Career Conference. Students had the opportunity to learn about and plan for career paths including policy and social impact, science and innovation, education, engineering, business, and computer science, among other fields. The day-long conference was held in person for the first time since the pandemic started and featured around 20 local professional presenters, keynote speakers, panels, and a networking lunch.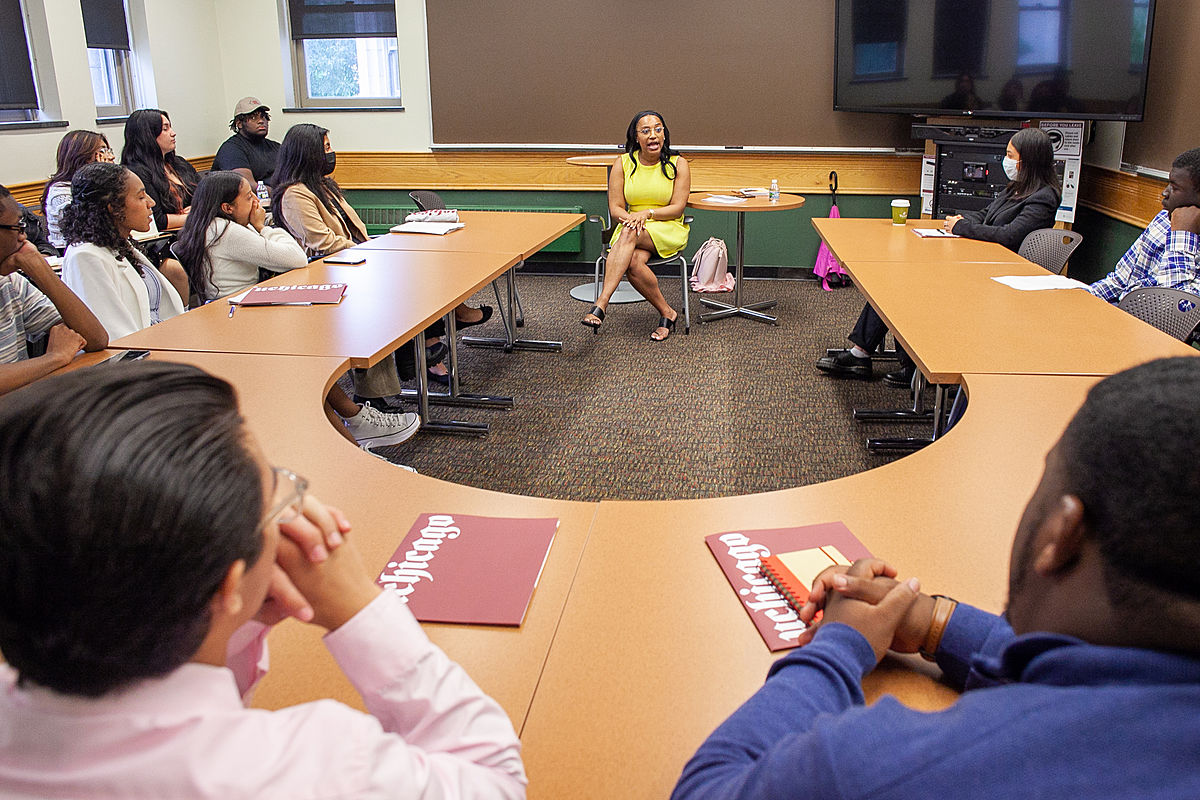 Logan Leflore, a soon-to-be first-generation college student and UChicago Upward Bound program graduate from Woodlawn, spent his morning at the conference learning from a session dedicated to computer science and innovation featuring Fermilab Accelerator Operator Laura Bolt.
"A lot of kids that I meet don't really know what they want to do, they just get out of high school and do whatever," Leflore said. "But through this program and events like this, I was able to see all these different fields and options and explore something new."
Though he doesn't plan to pursue traditional computer science, Leflore was impressed by the unconventional ways Bolt was able to build on an interest in physics she developed at community college.
That's just the sort of guidance and advice professionals who presented at the conference, like Illinois Department of Transportation engineer Cary Lewis, hope students are able to gain from the experience. Lewis, who's taken part in the event each year for nearly a decade, was a graduate of the University's Office of Special Programs-College Prep (which hosts the event along with other college readiness and access programs within the Office of Civic Engagement) himself and credits the program with giving him the confidence and direction he needed as a teen growing up in Englewood. By sharing his career journey with the programs' current participants, he hopes to offer similar support.
"I was a young man out of a struggling community—I had potential but there were some rough edges, and no matter how much I tried to separate myself [OSP Founder Larry Hawkins] wouldn't let me go. And because of his investment, his time, his care, I was able to get into every college that I applied to as a graduating senior from Hyde Park High School," Lewis said. "It was that experience from age 13 to 16 that gave me the foundation to believe all of that was possible."
Lewis hopes his career story speaks to students like he once was who are easily bored and interested in problem-solving but might not know all the ways different kinds of engineering might be the right fit. "The biggest challenge I had when I was their age was how do I relate what I learn in the classroom to real life? I can take their classroom experience and the stuff they're doing and I'm able to tell them how it transfers to what I'm doing now," Lewis said.
Research shows that students are more likely to commit to higher education and career planning following exposure to college and career opportunities, Abel Ochoa, executive director of College Readiness and Access in the Office of Civic Engagement, says. "The Peter and Judy Kovler Career Conference extends opportunities for local high school students to broaden their horizons and increase their exposure to a full breadth of potential career fields," Ochoa said.
Zoë Snelling, a junior at Lindblom High School who lives in Douglas and also participates in the Upward Bound program, made the most of her conference time by attending sessions that aligned with her interest in medicine and education but also gained some valuable college application tips from a session with UChicago Deputy Director of Admissions Veronica Hauad. Connecting with experienced professionals in a setting like this, Snelling said, is helpful because students can ask questions and get honest answers.
"They're not going to sugarcoat it," Snelling, who hopes to one day be a neurosurgeon, said. "They'll talk more specifically about what their struggles were in getting to where they are, and what I need to have, and what I need to prepare for. It's helpful because I know what I'm getting into."