Michael Rodgers, a computer science and engineering teacher at King College Prep high school in Kenwood, first learned about quantum physics decades ago, as an undergraduate student.
When Rodgers learned about the multi-year TeachQuantum program at the University of Chicago's Pritzker School of Molecular Engineering (PME), he was excited to delve into the current state of quantum science and spark the same interest in his students that he'd felt years ago.
TeachQuantum immerses Chicago Public Schools STEM teachers in PME quantum research labs and collaborative curriculum development, preparing them to introduce their students to quantum-focused concepts. The pilot, begun in 2021, focuses on teachers from South Side schools serving mostly students of color in Kenwood, Woodlawn, Hyde Park, Englewood, and South Chicago.
While the quantum field is growing quickly, the pipeline of quantum-trained researchers and workers lags behind — and most students don't even hear about quantum until college or later. Through TeachQuantum, developed by quantum researcher and PME Assistant Professor Tian Zhong as part of the National Science Foundation's Quantum Leap Challenge Institute for Hybrid Quantum Architectures and Networks, Rodgers and his peers are bringing this new, innovative field of quantum engineering and technology to high school students. Teachers work collaboratively to develop quantum-focused activities and lessons to bring back to their classrooms.
"The TeachQuantum experience has been a joy. For my students, seeing the concepts and knowing that I spent my summer learning them so I could bring that to our classroom — that's going to pay off even if they don't end up going into quantum, because they'll understand the science better."
It's not about creating quantum experts in the ninth grade, Rodgers says. "It's about awareness at this point," he says. "Students think that quantum is pretty interesting when they hear about it, and getting them interested is key when we're competing for their attention with TikTok and everything else."
Rodgers spent his first TeachQuantum summer in the lab of Associate Professor Diana Franklin, a researcher in computer science education in the Physical Sciences Division (PSD). There, he developed a game for his students to program to learn about basic quantum concepts. "It was really fun for them to work on," he says, "because it introduced new ideas and also connected those ideas to what they'd already learned about probability and programming."
This year, Rodgers was in the lab of Professor Shuolong Yang, learning about quantum materials and their applications in superconductivity. "Learning about this research gives us ideas about the concepts and how they can work in our curriculum," he says — like the "capture the photon" game he's developing that will help next year's students learn about the properties of quantum materials.
In addition to spending time in labs and pursuing independent work supported by their mentors, TeachQuantum participants also hear presentations from other University quantum researchers to get a fuller picture of the breadth of research in the field. And they meet with the other teachers in their cohort throughout the school year, creating a professional learning community to exchange ideas about using quantum concepts in the classroom.
Those meetings have proved incredibly valuable, Rodgers says. "Often, when teachers get together we talk about how to teach instead of sharing ideas for lessons. But in our TeachQuantum meetings, we talked about our lessons, how the content evolved as we started planning and delivering them, and how the process had gone. It's great to hear everyone's perspectives."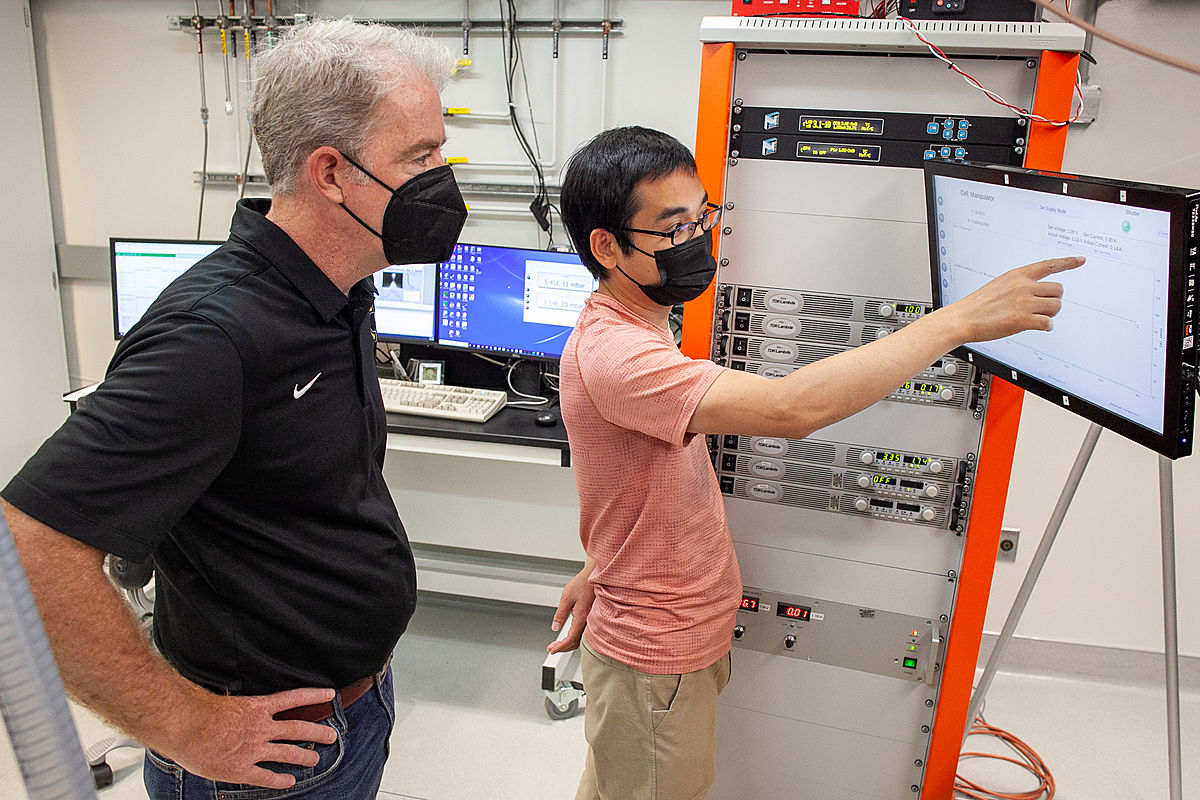 Rodgers adds that he and the other members of his cohort wouldn't have the knowledge or resources to teach this material if not for TeachQuantum — and that they have all become quantum ambassadors in their schools.
"I'm teaching students how to write programs, and I'm always open to ideas for what concepts the programs can teach. I told my fellow teachers to talk to their computer science colleagues about quantum and see how they could integrate it into what they're doing. And they came right back to tell me that I should talk to my school's physics teachers about doing joint lessons."